February 24, 2017 ( by Vietnam Net)
Delegates attending a seminar in HCM City on Wednesday urged the Government to amend or revoke a decree on rice exports which they said impedes exports of the grain.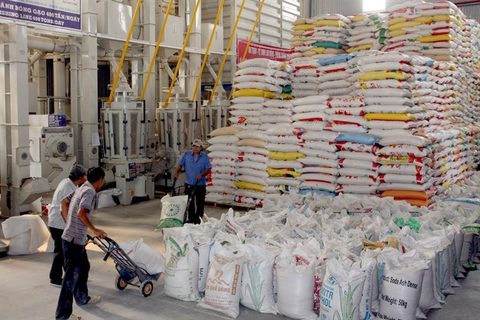 Rice stored for export at the Tan Tuc Food Processing Plant in HCM City's Binh Chanh District.
Rice exporters rail against storage minimum, vietnam economy, business news, vn news, vietnamnet bridge, english news, Vietnam news, news Vietnam, vietnamnet news, vn news, Vietnam net news, Vietnam latest news, Vietnam breaking news
After the 2008/9 food crisis, Decree 109 was adopted requiring rice exporters to have at least one warehouse with a capacity to store 5,000 tonnes of paddy and a mill with a minimum capacity of 10 tonnes of paddy per hour.
The must also have a steady supply area and register for export with the Viet Nam Food Association (VFA) within three days after signing an export contract.
But the decree has shortcomings and does not suit the current business situation, and so needs to be amended, delegates said.
Ngo Van Nam, general director of ADC Co Ltd, said his company has tied up with 6,000 farmers who own 35,000ha and also has warehouse space for 30,000 tonnes of paddy and milling facilities.
Yet it is not allowed to directly export and does it through other companies because it takes a lot of time and expenditure to apply for a licence, and after every consignment has to report to authorised agencies the export volume, inventory and other figures, he said.
Businesses have to recruit staff just for making reports, he said.
He said the Government should scrap the warehouse stipulations to reduce unnecessary costs for businesses.
Delegates said the process of selecting companies for government-to-government export contracts should be made more transparent.
The floor price of rice is another problem, they said. While the export rate is not allowed to be lower than the floor price, the market price keeps fluctuating while the floor price virtually remains unchanged.
Many suggested scrapping the licences.
Vo Hung Dung, director of the Viet Nam Chamber of Commerce and Industry's branch in Can Tho City, said "The rice sector needs to learn from tra fish exports, where exporters do not need to apply for export licences or seek the association's permission to sign export contracts. It developed sanctions to deal with those violating quality and competition norms."
Dr Nguyen Duc Thanh, director of the Viet Nam Institute for Economic and Policy Research (VEPR), said the decree should be amended to enable businesses to export easily and reflect the diversity of the market.
Some enterprises are in niche segments, exporting high-quality and value products, but fail to satisfy the decree's conditions.
If the Government does not ease the stringent regulations, they would lose their export opportunities, he said.
VEPR suggested scrapping several provisions in Decree 109.
"We want to emphasise that there is no need to make these conditions legal requirements. In fact, to meet the requirements of markets, businesses themselves must ensure a certain number of conditions."
But Dang Thi Lien, general director of Long An Food and Foodstuff Company, said the requirement related to having steady supply areas should not be abolished because this enables traceability of their products.
According to experts, the decree should be amended to focus more on quality to improve the value of Vietnamese rice.
With Viet Nam's rice exports facing difficulties in recent times, scrapping requirements that pose more hurdles to exporters is vital, they said.